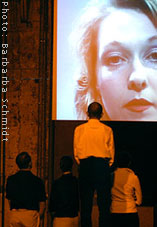 The young artists approach the serious material with a lot of fun and imaginativeness. (...) What can be achieved in a large opera with a lot of pyrotechnics and stage magic, is realised here with an intelligent use of video, with clever symbolism, and in a simple, practical set (stage design: Leonie von Arnim, costumes: Daniela Selig). The innovative integration and use of technology (video), the play with the most varied forms, types, and references, is characteristic of this staging. (...) There is much evidence of a strong filmic influence, and the narrative and presentation techniques learnt from film are used astutely for the opera form.
With a great scenic fantasy the direction doesn't only form, but cuts scenes over each other, contrasting and interpreting the representational apparatus of the opera and extending it in an extremely exciting and entertaining way.
Also refreshing is the humour – in opera productions unfortunately much to rare - with which the young artists play, without however reducing or denunciating the characters and their stories. The people on the stage and in the orchestra have visibly at least as much fun as the public, and this gives the evening its own additional dynamic. (...) The approximately twenty piece orchestra lead by Vicente Larrañaga performs lucidly and with a lot of energy. The soloists, from whom a fare amount of physical exertion is demanded in this fast staging – including a punch up during the singing – master their roles excellently. (...) A clever, well considered dramaturgy (Sebastian Bark) rounds off the positive impression, including the witty program. An all round sound, successful, entertaining and intelligent opera evening.

(...) Mit viel Spaß und Einfallsreichtum gehen die jungen Künstler die ernste Materie an. (...) Was an einer großen Oper mit viel Pyrotechnik und Kulissenzauber in Szene gesetzt werden kann, wird hier durch geschickten Videoeinsatz, mit klugem Symbolismus und in schlicht-praktischer Ausstattung dargestellt (Bühne: Leonie von Arnim, Kostüme: Daniela Selig). Die innovative Einbindung und Nutzung der Technik (Video: halbbild), das Spiel mit unterschiedlichsten Formen, Gattungen und Referenzen ist ein Merkmal dieser Inszenierung. (...) Hier ist viel filmischer Einfluss zu sehen, und die vom Film gelernten Erzähl- und Zeigetechniken werden souverän und geschickt für die Kunstform Oper genutzt. Mit großer szenischer Fantasie bebildert die Regie nicht nur, sondern schneidet Szenen übereinander, lässt kontrastieren und kommentieren und erweitert so auf höchst spannende und unterhaltsame Weise den Darstellungsapparat der Oper.
Erfrischend ist auch der in Opernproduktionen sonst leider viel zu seltene Humor, mit dem die jungen Künstler inszeniert haben und jetzt spielen, ohne dass sie dabei die Figuren und ihre Geschichte veralbern oder denunzieren. Die Menschen auf der Bühne und im Orchester haben sichtlich mindestens genau so viel Spaß wie das Publikum, und das verleiht dem Abend eine ganz eigene zusätzliche Dynamik. (...) Das etwa 20-köpfige Orchester unter der Leitung Vicente Larrañagas spielt transparent und mit viel Schwung. Die Solisten, denen in dieser schnellen Inszenierung auch körperlich einiges abverlangt wird - bis zur Prügelei während des Singens - meistern ihre Rollen hervorragend. (...) Eine kluge, durchdachte Dramaturgie (Sebastian Bark) rundet das positive Gesamtbild bis hin zum geistreich-witzigen Programmheft ab. Ein rundum schlüssiger, gelungener, unterhaltsamer und intelligenter Opernabend.