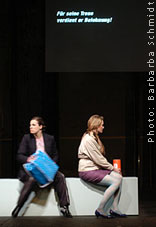 (...) The staging by Sven Holm and his Novoflot team attempts to show baroque music theatre from a new perspective, actually exactly along the lines of Tommaso Traetta's "Antigona", an Italian reformist opera from 1772. It seduces to the operatic form, which one is neither used to in such a setting nor in such intimate circumstances. No pit separates the audience from the young orchestra, which sits at the edge of the stage.
(...) This Antigone is quick-tempered and emancipated, but above all self-sufficient. The others vie for attention; Antigone is the star.
She is well acquainted with the film medium. To honour the burial, she dresses up in front of the camera; later she films herself in close up over her own grave, like a film diva just before a martyrdom: "Oh grave, oh nuptial chamber!" ...Antigone (Gesa Hoppe) is however also self-righteous and terribly intellectual. Because her bridegroom Haimon wants to rescue her, he dares to remark that he has buried Polyneikes. To his mumbled American-English – "Yeah, I fucking did it" – she replies, in a German intellectual posture, with an interpretation of the Antigone myth. ... Imaginativeness lurks in every corner of the staging.


(...) Diese Inszenierung von Sven Holm und seinem Team Novoflot will barockes Musiktheater aus neuer Perspektive zeigen, eigentlich ganz im Sinne von Tommaso Traettas »Antigona«, einer italienischen Reformoper aus dem Jahr 1772. Sie ist eine Verführung zur Gattung Oper, die man weder an diesem Aufführungsort noch in einem so intimen Rahmen zu sehen gewohnt ist. Kein Graben trennt von dem jungen Orchester, das am Rande der Bühne sitzt.
(...) Diese Antigone ist aufbrausend und emanzipiert, vor allem aber ist sie sich selbst genug. Die anderen ringen um Aufmerksamkeit, Antigone ist der Star. Das Medium Film hat sie längst für sich entdeckt. Zu Ehren des Begräbnisses wirft sie sich vor der Kamera in Schale; in Großaufnahme filmt sie sich später über dem eigenen Grab, wie eine Filmdiva kurz vor dem Martyrium: »Oh Grab, oh Brautgemach!« (...) Diese Antigone (Gesa Hoppe) ist aber auch selbstgerecht und furchtbar intellektuell. Weil ihr Bräutigam Haimon sie retten will, wagt er zu behaupten, er habe Polyneikes begraben. Sein amerikanisch-englisches Gequatsche - »yeah, I fucking did it« - kontert sie mit deutscher Intellektuellenhaltung: einer germanistischen Interpretation des Antigone-Mythos. (...) Der Einfallsreichtum lauert in allen Ecken der Inszenierung.

taz Berlin